We.js
Extensible server side Javascript MVC framework
Modularity and productivity is our main focus.
We.js is build with some of most reliable tools in NPM and structured with sucessfull patterns.
Create amazing applications with little effort and save your money for the right things.
Split your project features in plugins and reuse in new projects.
---
Generators
Generate one functional project structure in seconds with we.js generator. Suport to generate resources and Swagger docs
Interoperability
Create APIs how work with other products or systems, present or future, in either implementation or access, without any restrictions
JSONAPI
http://jsonapi.org
Build in JSONAPI response format, compatible with your favorite client side framework. Angular.js, Ember.js, Vue.js, React ... only request and use.
Swagger
http://swagger.io
Simple awesome documentation strategy and We.js have one generator for build docs from project configurations.
You want more? send one request in https://github.com/wejs/we/issues/new
Powerfull CLI
Great set of usefull commands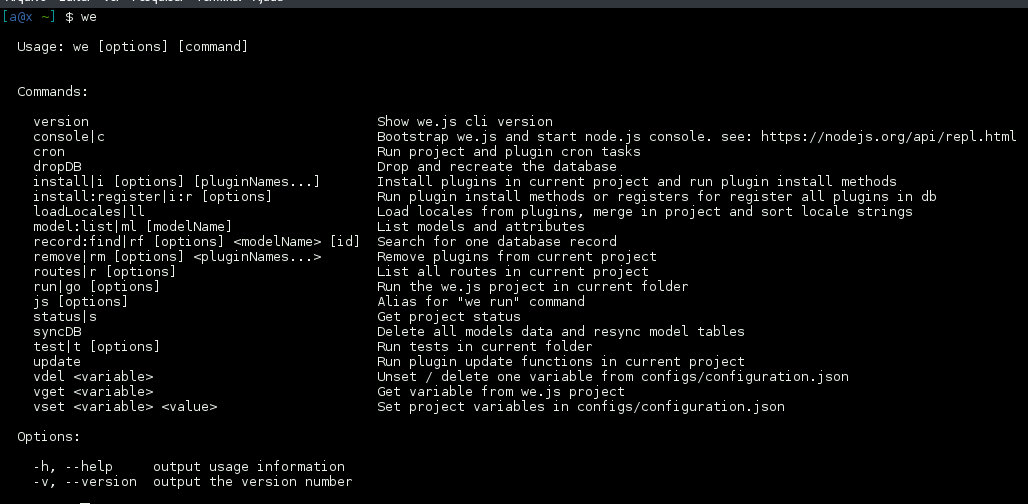 ---
Build APIs with Swagger docs in secconds:
---
Build and share plugins and projects
Examples avaible in we.js generator (generator-wejs module).
Conference portal
Host multiple events in one installation and every event have its own content and administrative interface
Link: https://events.wejs.org.
Plugin:
we-plugin-event
Blog
Be free to create beautiful themes for your own projects. Themes have the power to extend default plugin templates
Link: https://wejs.org/article.
Plugin:
we-plugin-article
Features
Plug and play, modules
Theme modules
Code with Javascript!
Suport to Linux, Mac and Windows
Object-relational mapping (ORM)
Access Control List (ACL)
Simpler structure
Generate forms from JSON or models
Extensive response formats
Administrative interface
Layout, regions and Widgets
Url alias
Generate Swagger documentations
Compatible with NPM modules
Compatible with Express.js middleware
Project distributions

Pre build projects for make blogs, sites, conference portal or APIs ready for use.
Example plugins
---
We.js and related modules is open source. It's hosted, developed, and maintained on GitHub.
View the code in GitHub
Suport and community
Come here if you have a issue, want help or talk about we.js:
---
Open source code and issues.
Real time chat
Our email group and newsletter